Psychological First Aid and Crisis Intervention: second part of the training-course for psychologists was implemented in Lviv
The news has been published: 25.07.2022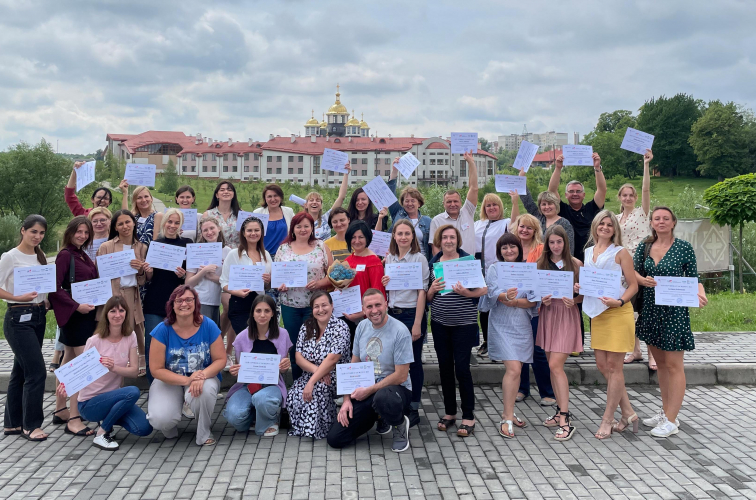 On July 21-24, the second part of the training-course for psychologists and specialists that work with people affected by the war took place in Lviv. The event has traditionally brought together representatives from all over Ukraine: psychologists, employees of psychosocial centres, mental health organizations and hosting communities.
The training started with forming expectations, expressing fears, revision of the most effective practices of working in emergency situations, learning how to apply the Psychological First Aid method (hereinafter – PFA).
During the training, participants actively incorporated their own experience of living through crisis events into the process, which helped to acquire the material even more effectively. Participants themselves noted that it was the simulation of crisis situations that contributed to having a better clue about all the processes and made it possible to get a better understanding of how to apply certain methods in the future.
Participants also noted that professional experience alone is not enough to provide quality assistance to victims if you don't know the PFA algorithm, so an active request was made for the perception of the theoretical part of the training.
Participants worked-out the methodology of a short-term psychosocial aid to persons affected by emergency events – Crisis Intervention. In a broad sense, it means any activity that is used to modify behaviour, emotional state, or feelings. In emergency conditions, that unfortunately are now a part of everyday life in our country, not only psychologists, but also anyone who works with vulnerable categories of population must know how to provide psychological aid with the basic algorithms and principles of its provision. Therefore, participants pointed out that upon returning home, they will work in their own communities and organizations to pass on the knowledge they have gained.
To sum up, most of the participants spoke about the training-course as an important and relevant event, which is now a great support both in their work and volunteering.

The event was held in the frames of the "Peace Building and Conflict Resolution in Ukraine – Step Forward" project, implemented with the support of the German Federal Foreign Office's funds by IFA (Institut für Auslandsbeziehungen), Funding programme zivik.
Read our other news
We bring together people with an active civic position
Join our team!
Promoting democratic values and respect for human rights
Contributing to the establishment of gender equality
Working to build peace in the Ukrainian society
Supporting local initiatives and community development